Kristen:
As the owner of Mint Hair Studio, Kristen is committed to ensuring that our clients have the absolute best experience possible.
After over 10 years as a stylist, Kristen witnessed the negative environmental impact that our industry can have and decided that it was time for her to open a hair studio that prioritizes reducing our footprint. With that ideology as a central component to her business plan, Kristen opened Mint Hair Studio in Hintonburg in 2011. We use Kevin Murphy products which are world-renowned for their environmentally sensitive packaging, for sourcing ethically produced ingredients and for being sulphate free, paraben free and cruelty free. Further, we are proud to be a Certified Green Circle Salon which means that we take extra steps to recycle our waste by outsourcing this service to a private company.
​

Kristen is a strong advocate of the importance of continued learning and regularly upgrading skills and she embraces every opportunity to learn new techniques. She has completed several Kevin Murphy Cutting and Colouring classes and continues to grow her passion and skill for her art. With a keen eye for determining the best cut and colour for your hair texture and lifestyle, Kristen will be sure to leave you with a look that has you beaming.
Heather:​
Heather's main passions fall into the two very vast categories of The Arts and Sciences. After having studied English and Sociology at Carleton University, Heather decided to attend Marvel Beauty School with the aim of having a career in which she could create art. She loves to read anything from classic literature to the latest discoveries in space exploration, as well as the latest trends to hit the runways.
Heather loves to break the rules and traditional guidelines when it comes to her art. Her outlook on fashion and beauty comes down to personal style and attitude, so you can count on her creating a look for you that feels like You. This is probably why she has formed a specialty in Short Hair Cutting -- for men, women, and children. Her attentiveness and intricate detailing allow for any length of Cut to be personalized to you and your lifestyle.
Reducing her carbon and eco-footprints are a top priority for Heather. A pescatarian and fierce animal lover, joining the team at Mint Hair Studio was a no-brainer. Our use of PETA-approved KEVIN.MURPHY products and colour line, as well as our commitment to reducing our impact on the environment align perfectly with Heather's convictions and lifestyle.
Having joined the team 5 years ago, Heather is our longest resident Stylist other than Kristen, the owner. She is dedicated to being a part of a team that serves its community both in the Studio and out, having participated in charity and fundraising events, and co-hosted vernissages alongside her teammates.
Feel free to follow her & her Hintonburg-famous pooch, Maisie, on Instagram @heatherricker

Breanna:
​ Breanna knew from a very young age that she would pursue a career as a hairstylist.

She loves staying current on industry trends and techniques and keeps a keen eye on modern fashion, all of which heavily influence her work. Breanna is attentive with a huge heart and truly listens to what her clients are looking for in a cut, colour and style. She gets major satisfaction from making her clients feel and look their best and works hard to maintain outstanding relationships with those who grace her stylist's chair.

Breanna is proud to be part of a team that prioritizes our environment and takes real steps to reduce our environmental impact. She especially loves that Mint Hair Studio makes a conscious effort to reduce, reuse and recycle, including our Green Circle Salons program where we recycle every single colour tube and piece of foil.
Having studied and worked alongside many talented stylists, Breanna has been able to master various techniques for creating the hair of your dreams.
Onneka:​
Onneka has been in the hair industry for over a decade.
Her passion stems from a young age, sitting in front of the bedroom mirror experimenting with her own hair -- which she continues to this day! Onneka believes education to be the key to success and so she has continued to study various Cutting and Colouring styles and techniques with many innovative companies.
​ Her edgy style and contemporary looks have lead her to many opportunities around Ottawa, such as working with local TV stations and celebrities, doing makeovers and specialty events. Onneka has always sought out to work with strong managers and owners of creative and innovative salons, which makes her a great addition to the Mint Team.



---

Susan:
​ Susan has been a stylist for over 10 years and has worked all over the country. She has a true zest for life and is one of those friendly, upbeat people with whom you just know you could have the best all-night gab sessions. In addition to living in Europe and traveling extensively, Susan attended both Marvel Hair School, Vidal Sassoon Academy and studied fashion marketing in Montreal – all of which help inform her creative thought process when it comes to creating the perfect look for her clients.
Known for her expertise in dry cutting, she has taken several courses of various colour lines and she has won 2nd place in a Schwarzkopf Cut + Colour competition. Susan loves creating on-trend hair styles that fit her clients' vision and lifestyle. She is constantly learning new tricks of the trade and applies that to her cuts and colours in order to best make her clients' hair dreams come to life.
​

Susan understands how important lifestyle is in creating a style that works for you and makes that a priority during your appointment. With her years of experience, exuberant personality and attentive client relationships, Susan is an excellent fit with the Mint team of talented, strong and conscientious women who value their clients, their community and the environment.
Amber:
​Amber is the second newest stylist of our Mint stylist team, and was previously an assistant at Mint Hair Studio.


She has always been a hair and make-up aficionado and when she was just 15 years old, Amber started working in a hair salon - this experience cemented her goal of becoming a hair stylist. She received her Hairstylist certification through Algonquin College's two year diploma program and has taken several Kevin Murphy training classes including their cutting technique, colour and men's cutting classes.

Amber is thrilled to be part of a team of supportive and skilled stylists in a top-rated Ottawa salon where she can continue to advance her skills and career. She especially loves working with Kevin Murphy products which are all sulphate free, paraben free and cruelty free.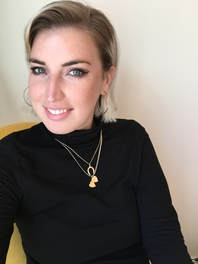 Michal:​
---